Managing knee osteoarthritis is like running a marathon. That means finding the right balance of safe pain reduction, improved mobility, and joint protection.
GELSYN-3 delivers hyaluronic acid that's been formulated to provide lubrication and cushioning benefits, providing joint protectionand mobility that may delay the need for surgery, while safely relieving knee pain for up to 6 months.
HYALGAN® is a solution that contains a natural substance called hyaluronate. Hyaluronate is normally found in the fluid that lubricates and cushions your knee joint. HYALGAN® is injected into your knee to relieve pain due to osteoarthritis.
HYALGAN® is a treatment option for people who do not get adequate pain relief from simple painkillers (like Tylenol® or Advil®) or from exercise and physical therapy. HYALGAN® injections can be used in addition to prescription pain relievers.
HYALGAN® is a 5-injection regimen given at weekly intervals that provides long-lasting pain relief for up to 6 months
GenVisc 850 is a product that is injected into your knees to treat knee pain from joint inflammation and stiffness due to a disease known as osteoarthritis (OA).
GenVisc 850 is from a class of products known as hyaluronic acid, sodium hyaluronate, or hyaluronan (HA), which is also referred to as viscosupplementation therapy. It's used in a nonsurgical procedure that helps supplement the viscous properties of the fluid in your knee joint. GenVisc 850 is approved for patients who have not adequately responded or have failed to find sufficient relief from simple analgesics, exercise or physical therapy.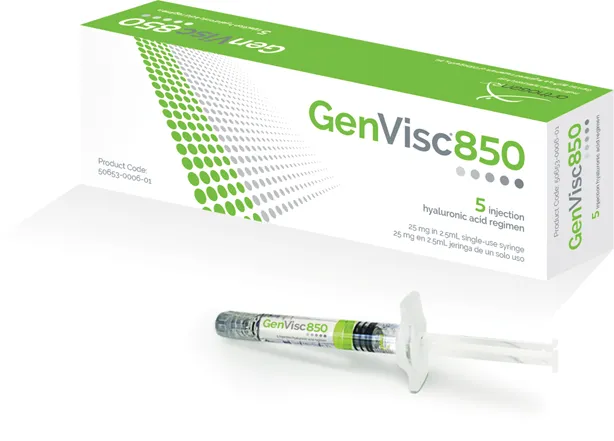 Osteoarthritis & Chronic Joint Pain

As we age, the general wear and tear of daily life often results in chronic joint pain or osteoarthritis.
Traditionally, patients are told they only have two choices: live on pain medication to mask the pain or undergo risky joint replacement surgery.
PWIC's OA Knee program offers a better alternative – that can help restore the joint, re-nourish and rebuild new cartilage, increase viscosity and mobility, reduce swelling and reduce or eliminate the pain – all without surgery.
The results for many of PWIC's OA Knee Program patients, including many who were told their only option was joint replacement surgery, have been life changing.
Our FDA approved treatments are covered by Medicare and most major insurances. This makes it possible for a wide range of patients to try our innovative, non-surgical Program and avoid knee replacement surgery.
PWIC and Dr. Efros' treatments provide more substantial pain relief, better mobility, and better long term results, so our patients can get back to the activities they love to do; new options for patients to help them harness their body's natural healing potential.
Another major benefit our non-surgical approach offers is little-to-no downtime.